Are you looking forward to changing or installing shower floor tiles? How do you choose the best ones? Well, read on for comprehensive details on how to make the right choices.
When doing home improvements and refurbishments, special consideration must be given to shower floors. This can be explained by considering the following factors:
It defines the sense of style and sophistication in the room. Good floors will automatically create an inviting look in the small space.
The room is always subject to an accumulation of moisture. The best shower floor must be chosen with this in mind. This may determine whether you and your family are safe and healthy.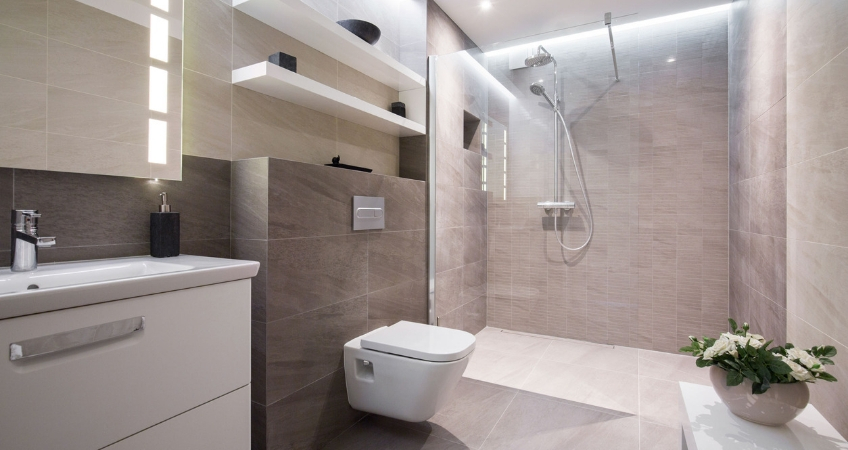 Tiles are ideal for your shower floor because of the following reasons:
The best shower floor tiles will last for ages because they are designed to withstand the forces of wear and tear. Even so, you must test them to determine the grading by the manufacturer.
Ease Of Cleaning and Maintenance
Bathroom space gets dirty quickly and regularly. You may want to install a floor that is easy to clean and maintain. The best tile for shower floor works in this regard. Its non-porous nature does not stain or trap dust easily. A broom, mop, and a typical detergent are all you need to clean them thoroughly.
---
Read also: Shower Room Lighting Ideas
---
You will find tiles of different colours, shapes, and sizes to suit your preferences and general theme in your bathroom.
You don't have to a big budget to install the best shower floor tile. The products are sold at a reasonable rate online. Furthermore, the cost of labour is minimal because the installation process can be completed in a matter of hours.
Floor tiles are perfect if you or any guest have allergies, asthma, and other respiratory health complications. This is because the best tile for shower floors does not trap irritants, moulds and fungus.
You will create an appealing look in your bathroom when you install colourful or patterned tiles.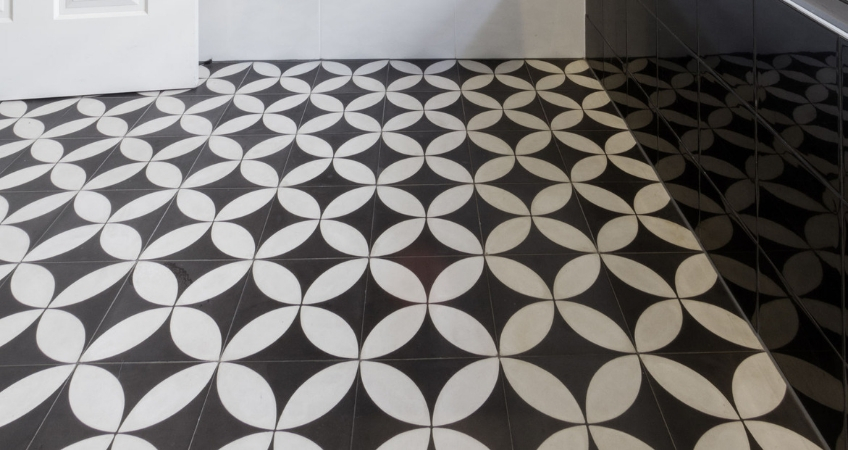 Ceramic tiles can withstand extreme temperatures. Accordingly, it is safe for indoor spaces.
The best shower floor must be designed in a way that odours you leave behind after shower are not absorbed. Unlike other materials, tiles are odour resistant and thus appropriate for space.
Finding the Best Shower Floor Tiles
Given that there are numerous benefits of using tiles on the shower floor, the next step is to determine what tile is best for shower floor. Here are the guidelines:
Size

It is always important to find the best shower floor tile size when making purchase decisions. This is because there are high chances that you will slip if the wrong size is chosen. The product must not be more than six inches square to provide higher levels of grout. Stability and grip are also assured in this case. Always limit the larger tile sizes to the walls.

Material

The best type of tile for shower floor is made from the right materials. you will find different types including:

1. Ceramic Tile

This option is perfect for damp spaces such as the bathroom. It is easy to maintain and install. Always go for high-gloss ceramic tiles to avoid slippages.

2. Stone Tile

The stone tile is ideal when you are looking for a natural feel. You must seal them accordingly because they are not water proof. An option such as marble tile is good if you are looking for a sophisticated look.

3. Porcelain Tile

Porcelain tile shower floor is one of the common options in the industry because it offers homeowners a stress-free experience. It features a dense and tough surface. Also, it absorbs a little amount of moisture. Note that the installation process must be done by the professionals.

4. Glass Tile

People who need modern options when seeking for floor tile for shower opt for this product. It is, however, more slippery than other options and thus, using it on the walls is better.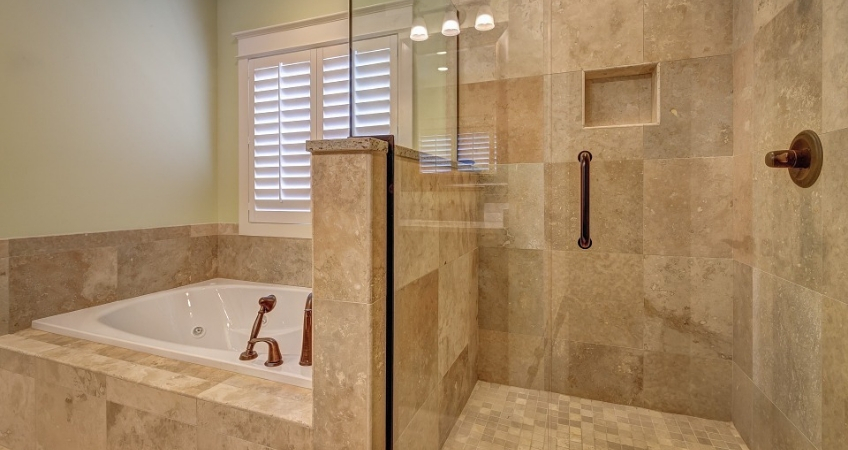 How much do you want to spend on bathroom flooring? This is one of the critical questions to answer when going through different floor tile options. The cost will vary depending on the material making the tile and the size of your bathroom. If you cannot afford marble, porcelain tile for shower floor is a better and cheap option.
Glass tiling should be considered when you have a little more cash to spare. Further, ceramic tiles are cheap yet come with different designs; it means that you will complete the project on a budget without compromising on the aesthetic considerations.
Even further, go for quality tiles to save on costs. They will remain in perfect condition for ages and as such, you will avoid incurring costs of regular repairs and replacements. Always work with vendors who have a reputation of supplying quality products. Also, find contractors who have superior knowledge on how to install tiles. For instance, they must be aware of the right adhesive to use for the moist area.
Colour Schemes and Themes
Appropriate tile for the shower floor must be chosen based on the general theme and colours in your bathroom. A bright colour will create an illusion of more space and hygiene, while dull colours make space look smaller and dirty. It is for this reason that many building contractors opt for white and baby blues as opposed to browns, black and dull shades of gray. The tile chosen must also blend in with the general theme in your bathroom. Whether you are going for modern, traditional, or even a specific cultural look, the floor must complement the theme.
---
Read also: Shower Room Design Ideas
---
Maintenance Issues and Your Lifestyle
If you are not always available to clean your shower floor, go for materials that are easy to maintain. Mosaic tiles can be hard to clean because you must get into the nooks and grannies to remove the grout lines. Ceramic tiles with few textures, on the other hand, are perfect for a person with a busy schedule. Again, the best size tile for the shower floor must be chosen because it determines how well you can clean the space.
This aspect is closely related to cleaning shower floor tiles and choosing the right colours. Little black tiles hold water for a long time. Hard water will be visible when the tile dries. Go for other colours if your household has this type of water. You can try white and other bright colours to avoid the unsightly look. However, you are still at liberty to install black tiles, if you have a strict cleaning regime.
Availability of the Products
Vendors in the best tile for shower pan will tell you that it can be hard to find some tile designs because they are made from unique materials. You will have difficulties to find them when you need to replace one broken tile in the future. Accordingly, go for readily available yet unique products.
Combine different tile sizes, colours, and shapes to create a great look in the bathroom. For instance, you can include a few brightly coloured tiles to define some parts of the floor. Creativity is fundamental in this case since you must not create a confusing look or even spend too much on the project.
Just Before You Rush To the Stores
Clearly, there are many considerations to make when making a decision on what tile is best for shower floor. It is in this background that building contractors and tile suppliers encourage the consumer to test the product before narrowing down to the right one. You can buy one or two tiles to find out whether it suitable for the space.
Further, take measurements for the size of your bathroom to determine the exact amount of money to spend in the project. A tape measure is enough for the task. Do it at least twice and be sure to consider dynamics such as curves and hidden spaces on the floor.
Still, it is always important to purchase more tiles as opposed to the exact number when thinking about what kind of tile for shower floor. This takes into account the fact that there are chances of tile breakage during the installation process. Also, having extra tiles in your storage will come in handy when you need to repair and replace broken tiles.
Moreover, find a reliable tile supplier, so that you can get quality products and on time. A little search online will help you to determine sites with the best reviews. Also, compare the prices so that you can get discounted rates.
Where to Find Help
While in your search for tile suppliers and installers, you may want to consider All Division Building. The company is reputable in doing perfect home refurbishments and improvements. Over the years, it has satisfied clients in Kent, South East London and Essex with customized services. You can be assured that the trained, insured, and friendly professionals will creatively transform your bathroom space by installing appropriate tiles.