The kitchen is one of the highly functional rooms in a home. This is the place where you spend most of your time trying out your favourite meals. As a result, you spoil the floor of your kitchen through drops, spills, and heat and even dropped utensils. Therefore, if you are considering your kitchen flooring options, it should be durable and be in a position to enhance your safety as you cook or clean.
With a wide array of flooring options in the market today, it is wise that you focus on the functionality of your floor. Ensure you balance the function, style, and comfort of your kitchen as you explore different kitchen flooring ideas. The durability of your floor is very crucial bearing in mind that there are beautiful and stylish materials to choose from.
---
---
One of the most crucial decisions you can ever make when choosing the best flooring for kitchen is the functionality. Being a high traffic area, you need the most durable flooring ideas. Some of the most durable flooring options for your kitchen include;
Tiled Kitchen Flooring Ideas UK
There are numerous reasons that tiles are widely regarded as the best flooring for kitchens, with different types of tiles and a wide range of designs to choose from, you will never be short of durable kitchen flooring options if a tiled finish is what you are after. The most popular options of floor tiles for kitchens are Porcelain and Ceramic, mainly due to their modern kitchen flooring aesthetics and affordability, in comparison to the more expensive marble kitchen tiles.
Ceramic Kitchen Floor Ideas
Ceramic kitchen tiles are a highly resilient option for kitchen diner flooring. It is solid, water and stain resistant. The tile can function efficiently over a long haul with just a slight change in its appearance. Ceramic floors are also available in an array of beautiful colours, sizes, shapes, faux natural patterns, and mosaic. Therefore, it gives you a wealth of options to choose from, whilst also being a bit of a cheaper option in contrast to porcelain & considerably cheaper than marble.
Porcelain Kitchen Floor Options
Porcelain is a beautiful and tough kitchen diner flooring material. It is considered as an improved version of ceramic tile due to its durability, this is thanks to the way in which it is created. A porcelain tile is created at higher temperatures, resulting in a harder, denser end product that absorbs less water than its ceramic counterpart. Due to the fact that the tiles are typically heavier, porcelain is widely regarded as a premium choice for kitchen diner floors. With its durable, nonporous qualities, it is frequently used in wetrooms, saunas & even outside. Choosing this option for your kitchen floor is only recommended if your budget is permitting.
Hardwood Kitchen Floors
Naturally, hardwood is very porous and even though it may have issues with stains and water spills, it is still a strong and stylish floor covering that we recommend. Often, you will find different wood flooring ideas for kitchens include those that are treated with polyurethane based finish. Such a floor offers the best cushion flooring for kitchens because it is not only beautiful, but also durable and enhances your safety in the kitchen.
When you settle for hardwood for your kitchen floor covering, you will realize that the material may change after a long period of time. Spills make stains and if you love the old look, this is a flooring option that will complement your personality.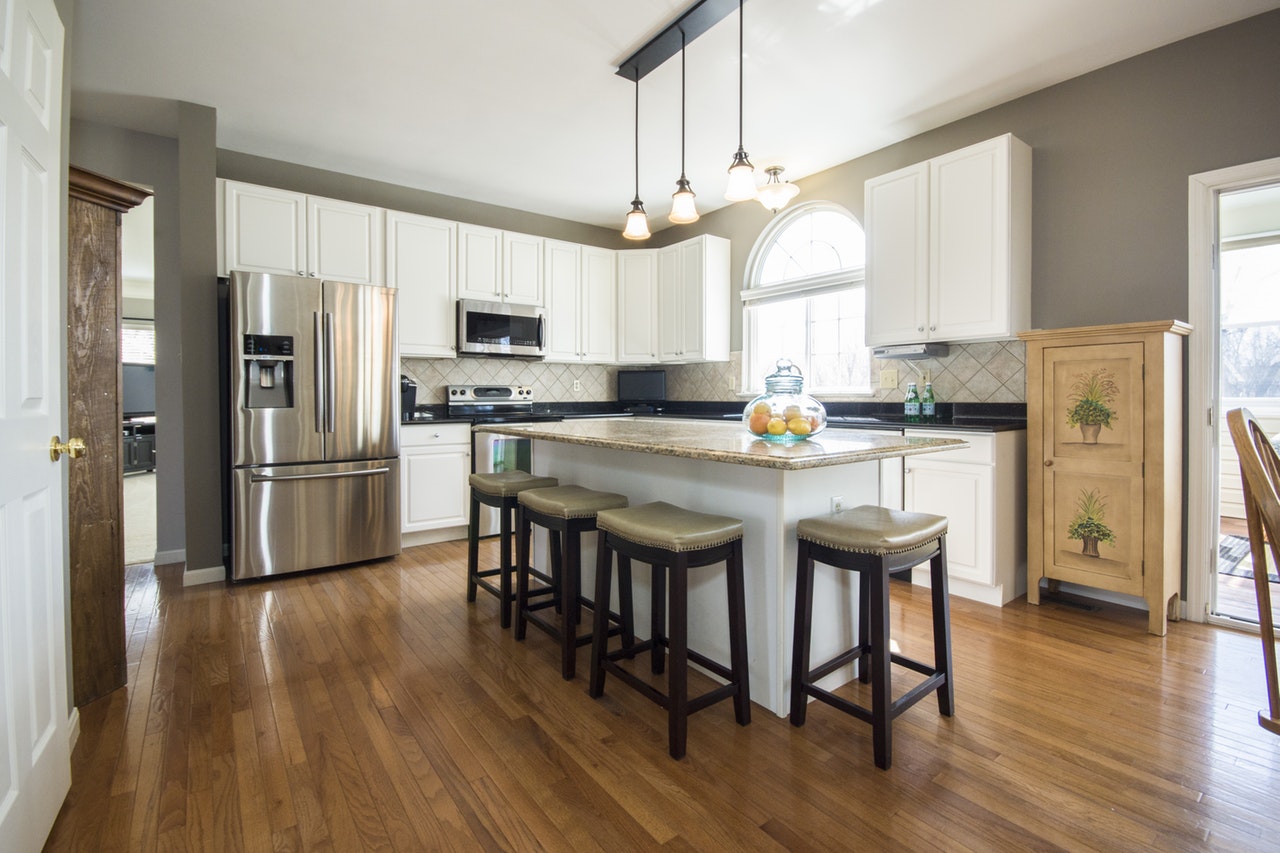 Oak Kitchen Flooring Ideas
Oak is also another wood flooring option for your kitchen. It is warm, natural-looking and very classic. It adds a touch of beauty to your kitchen and its one of the hardwood flooring option that is highly recommended because of its durability features. Similarly, oak is easy to install, it doesn't reveal dirt.
Oak is also ideal for high traffic areas including your kitchen and living room because it offers a comfortable feel. Oak also has a way of generating a seamless look and touch between your kitchen and other rooms in the house. When properly maintained, oak can uphold its aesthetic appeal over a long haul.
If you prefer a white kitchen floor or a soft top layer on your kitchen floor, laminate wood flooring is the best solution. It is one of the best kitchen floor covering ideas that is soft and ergonomic. What's more, if you need an easy to install kitchen flooring idea, the laminate will never disappoint.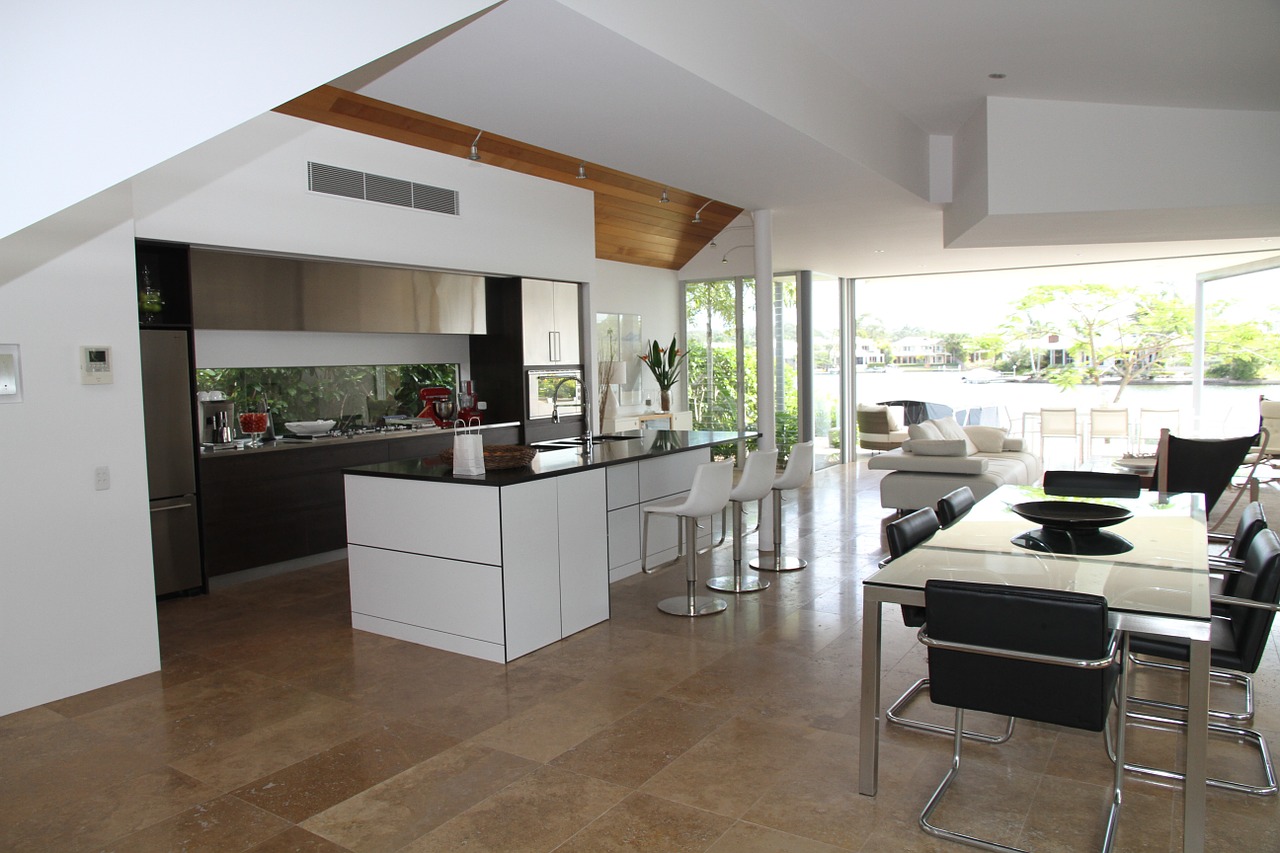 Bamboo Kitchen Flooring
Bamboo is also beautiful to look at and to the touch, making it worth consideration when it comes to alternative kitchen flooring ideas. It is more resistant to water, moisture and heat damage. As a result, it is an excellent contemporary kitchen floor that enhances the natural beauty of your home. When fixing this kind of a flooring option, you will need the help of a professional for a great and seamless look.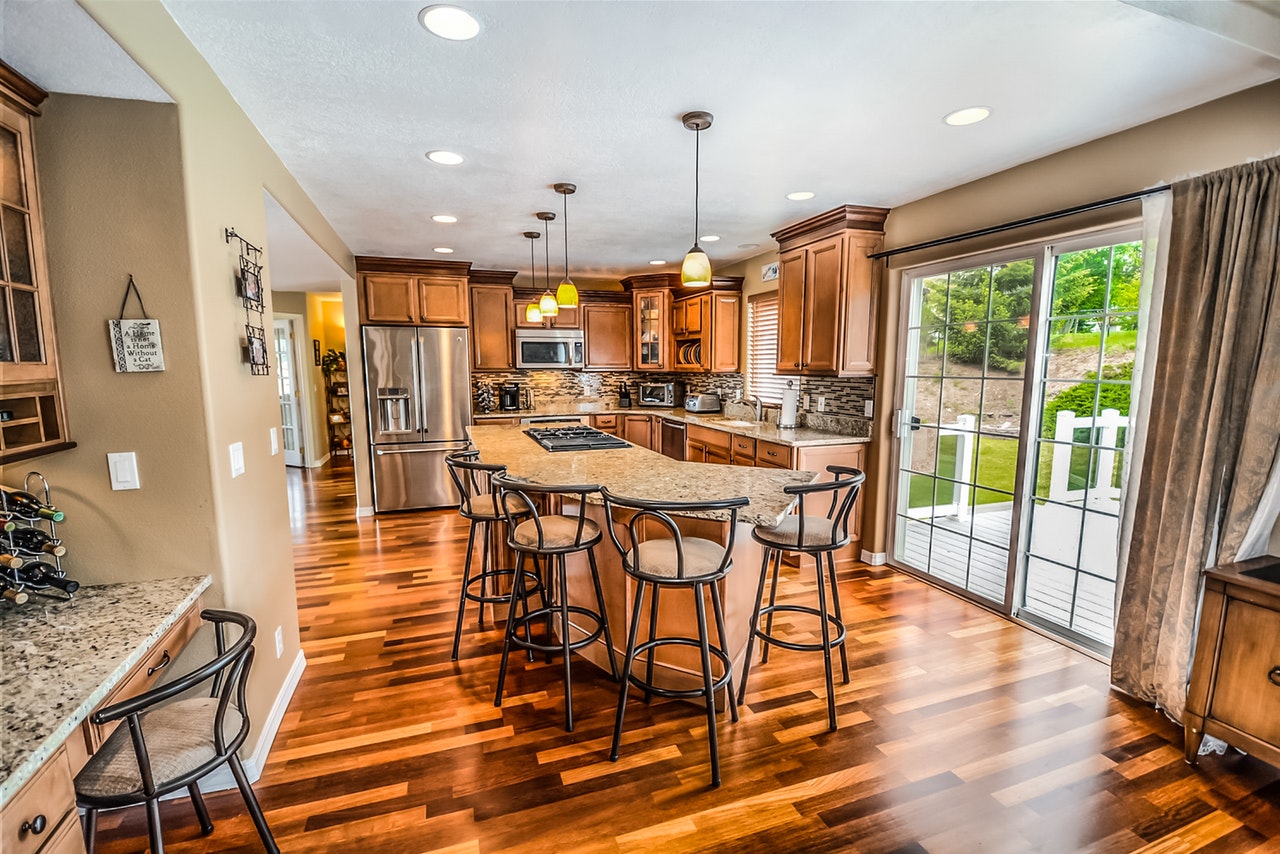 Contemporary/Modern Kitchen Flooring
If you want a modern look in your kitchen, you can always settle for modern flooring ideas such as;
Rubber kitchen flooring.
Cork flooring.
Vinyl flooring.
Wood laminate.
Carpet tile flooring and bamboo.
Bamboo, for example, is an incredible kitchen floor covering material that has an eco-friendly aspect. The strength of bamboo is unrivaled. You only need to purchase your flooring material from reputed brands.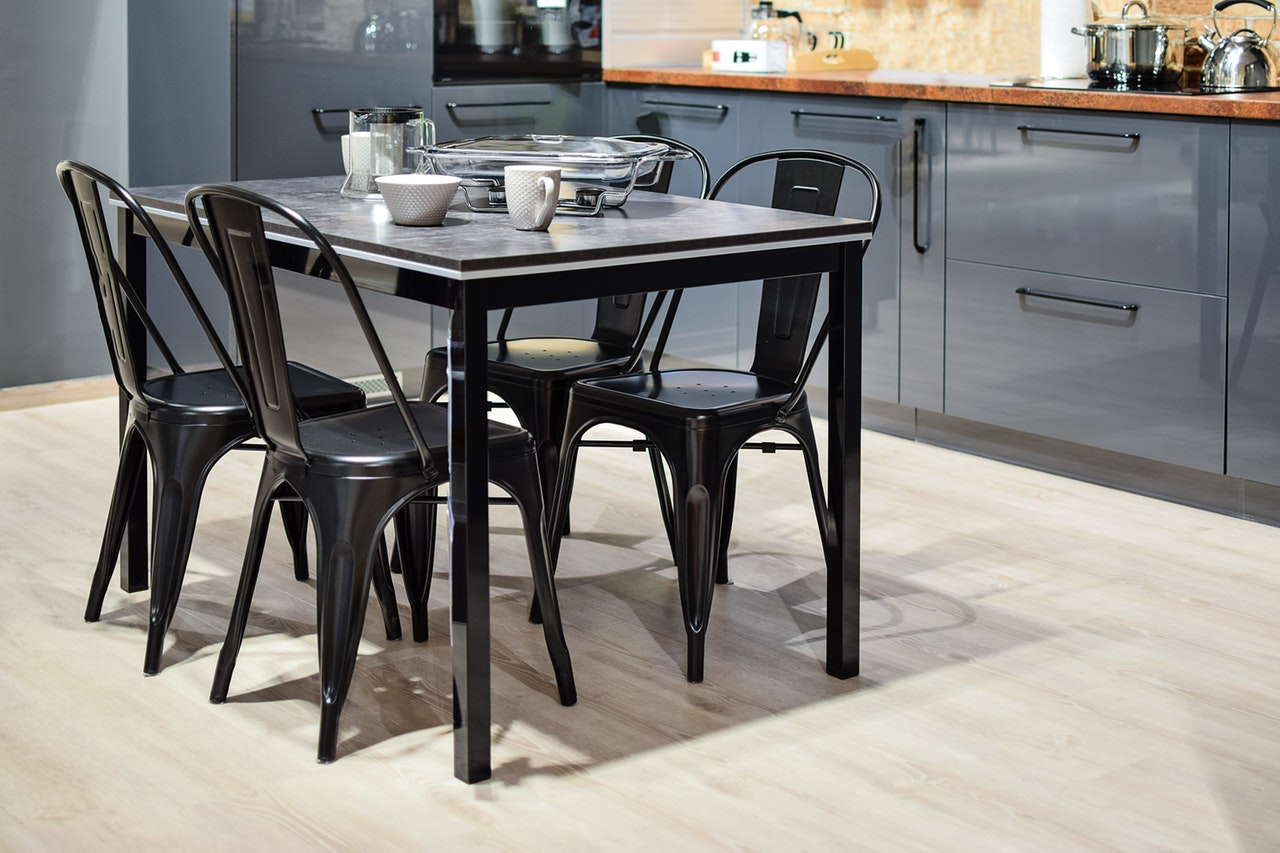 Carpet Floor Tiles in Kitchen
Carpet Tiles is likewise a modern kitchen flooring option. It has been widely used as an alternative to tiles in kitchen. With modern flooring materials and latest carpet flooring solutions, you will realize that the tiles can last over a long haul. The materials are easy to install, hence a perfect kitchen idea that you can go for when the need arises.
One of the benefits that you will enjoy by exploring carpet tile flooring ideas, is that you can always change the tile for cleaning or even replacement. The rule of thumb here is to choose a tile that is of the finest quality, offers a modern look for your contemporary kitchen, and is durable. Consider textures and colors that complete the look in your home.
---
---
When choosing different types of kitchen flooring, you need to understand kitchen flooring options pros and cons. This will help you to settle for an option that is most ideal for you. For example,
Vinyl flooring is a modern and an essential flooring option if you have a lot of cooking to do in the kitchen. This is also ideal if you need a floor that is easy to maintain. Remember, kitchen flooring ideas vinyl belongs to resilient flooring products. It offers the best cushiness in the kitchen, therefore, enabling you to move with ease while preventing muscle fatigue.
If you want a kitchen flooring option that is forgiving, vinyl is the most ideal. It is also considered as one of the best living room flooring ideas owing to its resilience. What's more, it only takes a snap to efficiently clean it. It is completely stain and waterproof.
The other advantage that vinyl offers is that it requires very little maintenance. You can only sweep and mop it in the event of spills. There is also a cushioned vinyl floor that is enhanced by a layer of foam and it offers extra comfort as you work in the kitchen.
Concrete Kitchen Floors
Concrete is also a modern flooring option that offers a contemporary look in your home. It has a beautiful unrivaled tone. For a customized look in your kitchen or your living space, you can explore a wide range of concrete finishes. It is also one of the most versatile, moisture resistant, durable and modern flooring options that help to enhance the beauty of your kitchen.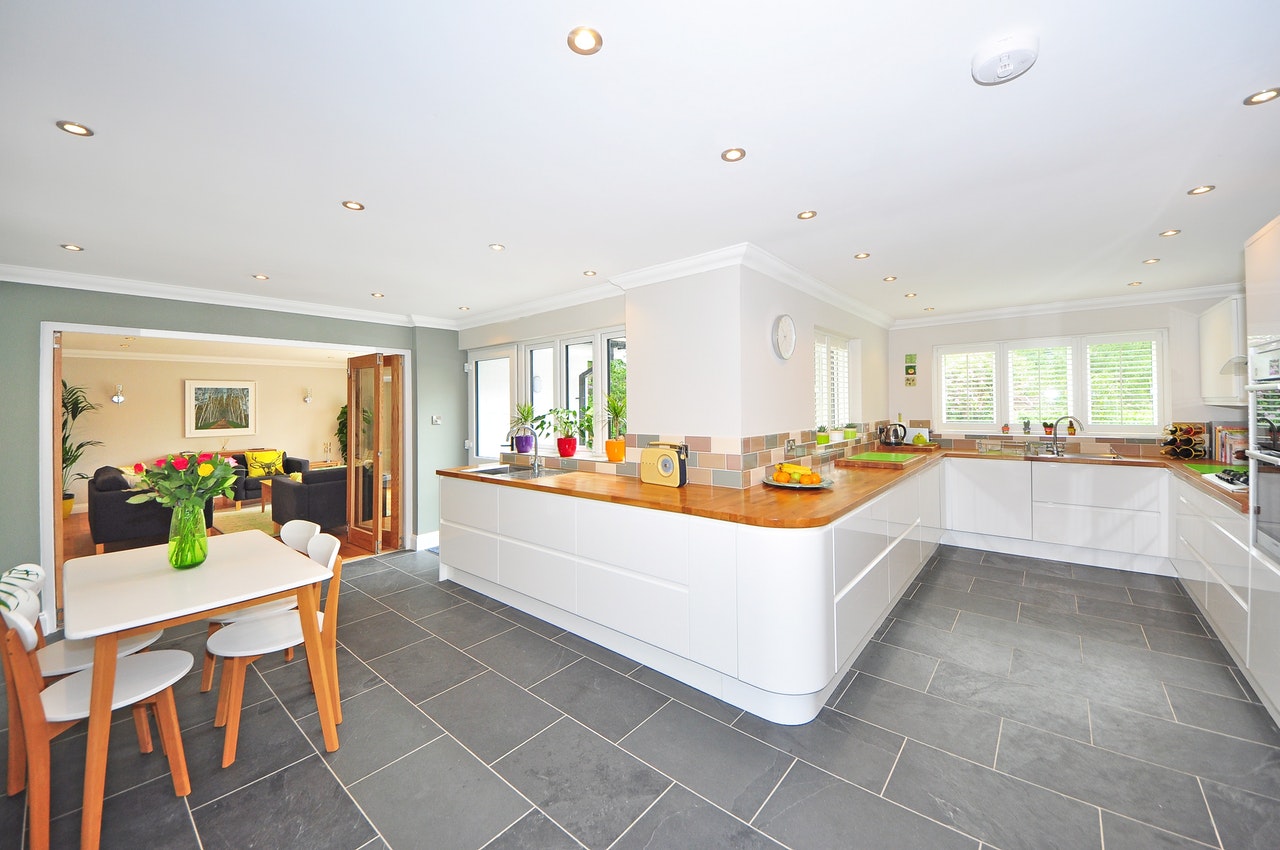 Cork Kitchen Flooring Ideas UK
Cork is similarly an amazing flooring idea that adds a comfortable and unique texture to your kitchen. It has a padded feel and acts as a natural insulator against noise and temperatures. Cork also has a waxy substance that repels pests and insects. You can always settle for cork tiles that match your personal needs.
The rule of thumb when using cork flooring is to ensure you settle for a durable finish that will help to repel moisture and water. A point to note is that cork is easy to install and it can add an incredible touch to your kitchen thanks to its attractive texture varieties. What's more, you can consider cork that can be refinished periodically.
Rubber Floor Options
Rubber floor has not been widely used in the kitchen you can consider it for your dining room. Most rubbers just like carpets in the market are tested and designed for high traffic areas, therefore, it makes one of the best dining room flooring ideas for a contemporary home. Rubber tiles or sheeting is also durable, available in richer and cooler colors that helps to hide stains in your house. You will realize that modern living room flooring ideas pictures feature variations that help to enhance the overall look of your home.
Stone Kitchen Flooring
For hard-wearing options in your home, you can go for stone kitchen flooring. It is available in slate, travertine and modern marble. With such variations, you can be sure that your kitchen will have a more stylish, earthy and unique look. Naturally, stone kitchen flooring ideas pictures offer a striking, organic aesthetic. Therefore, the stone can be used efficiently and comfortably in hotter zones. However, if you love to use stone in your kitchen, consider more radiant colours for a warm and tonal match in your house. It is important to bare in mind that Stone Kitchen Flooring options can come with a hefty price tag, so it is wise to do some research before deciding on whether or not it is right for you.
Cheap Kitchen Flooring Options
Apart from wood, tile, and carpet kitchen flooring ideas, you may also want to consider the inexpensive flooring options. They include;
Cheap laminate.
Unfinished utility oak flooring for a rusty and country look in your kitchen.
Vinyl Planks.
Ceramic tiles that are highly affordable, durable and can be customized to match your needs.
Painted linoleum and modern sheet linoleum.
Faux hardwood and plywood plank flooring option.
Painted wood floors and stencil wood floors.
These are a few options for the best cheap flooring for kitchens and are well are worth considering if you are working to a budget. They are also easy to install. However, to make the most of your kitchen flooring ideas, it is wise to hire a professional for your installation. All Division Building is a kitchen building and flooring expert that guarantees you an incredible makeover for your kitchen and the entire house.
Get In Touch With All Division Building For Flooring Recommendations From A Specialists!