Installing a wet room is becoming quite popular with homeowners these days. It's a great choice if you are looking for an enhancement that not only improves your bathroom's looks but its usefulness as well. But are you unsure if a wet room will suit your home? If so, you might want to read along as we take a brief look at wet rooms, their pros and cons, the kind of tiles they use and even a handful of design tips.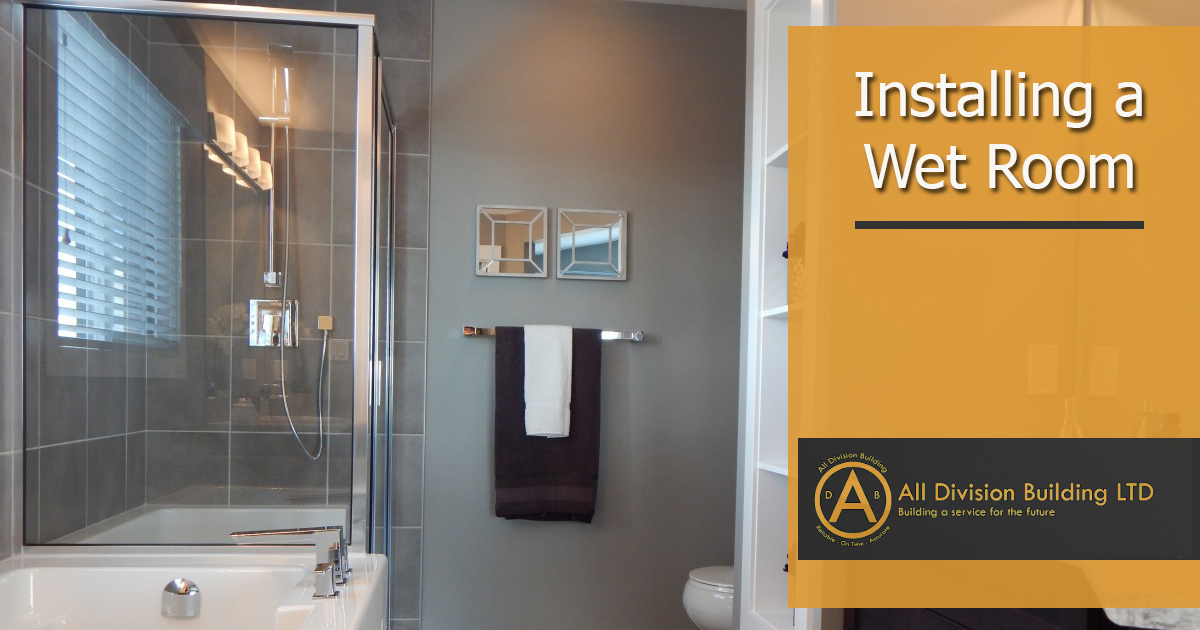 Who can have a wet room?
A wet room is one of those bathroom design ideas that anyone with a home and a bathroom can implement. A wet room is basically a shower area that doesn't have a shower screen and tray. Instead, the shower area is open and completely tiled. And even though it doesn't have a shower screen, you can include one in case your bathroom is small. This helps prevent the shower's water from spraying around.
What about the water drainage?
The drainage is a great example of why installing a wet room is best left to the professionals. First up, your bathroom's floor needs to be installed at a minor gradient which helps the shower water flow into the drain. Secondly, the whole bathroom must be tanked, also known as waterproofing.
A bathroom builder creates a gradient in your bathroom using either of two methods. The first involves installing a new plywood sub-floor and tiling it over. The ply used for this purpose is known as WBP, which is an acronym for Water and Boil Proof. WPB plywood is fused together with a glue that is similar to the one used in exterior plywood. The second method uses a shower tray former instead of the plywood to obtain a similar result. This too is covered with tiles.
There is another less oft-used method whereby a large preformed tray is installed. This tray is built with a slope towards the drain and can be installed across your bathroom floor without being tiled over.
How is the waterproofing done?
Waterproofing a wet room, also known as wet room tanking, is a two-stage process. In the first stage, areas like the floor, the lower part of the walls and the wall area surrounding the shower are primed. In the second stage, these areas are layered with a thick bathroom wall membrane. Once this membrane sets and dries, the tiling process is started.
Also, it's recommended to raise the bathroom door's threshold by at least 5 mm. This acts as a safety measure to keep the shower water contained in case the drain malfunctions for some reason.
What are a wet room's advantages?
As mentioned previously, wet rooms bring functional as well as aesthetic improvements to your bathroom. Regardless of which design you choose, wet rooms are sophisticated and perfect for achieving that contemporary look. Their utility also comes to the fore in small bathrooms where the wet room allows you to remove the bath and free up a lot of floor space.
Cleaning a wet room is also very easy as there is no shower tray or screen to work around. You can make the task of cleaning easier still by opting for a wall-hung toilet and sink units.
Lastly, and this might interest many among you, a wet room is known to boost a home's value. If you are looking for affordable ways to increase the market-value of your home, do consider adding a wet room.
What should be used for tiling a wet room floor?
The most commonly used covering option for wet rooms are tiles. But there are other options too that you can consider for the wet room. These include vinyl sheets or even Corian. The latter is a non-porous material that requires very low maintenance. You can also go with concrete if you want a rough and luxe look for your wet room. Tadelakt, which is a type of waterproof plaster found in Morocco, offers a look similar to that of concrete.
But if you are set on using tiles, pick a non-porous option like porcelain or ceramic. If you choose porous tiles like limestone, marble and slate, you'll need to get them sealed often to keep water damage at bay. This is one expenditure that you can, and should, avoid. And one more thing, only buy wet room floor tiles that are purpose-built for bathroom floors as they are non-slippery.
How much will a wet room cost me?
The wet room installation cost varies from location to location. However, expect to shell out anywhere between £5,000 to £12,000. The figure at the higher end is what you pay when you hire a professional service for the task. However, when you consider that installing a wet room consists of tasks like waterproofing and tiling, it makes more sense to get it done by a professional service.
Now that we've got some basic questions about wet rooms out of the way, let us look at a few wet room design ideas that you can consider before getting the work started. This is important because you must have a clear picture of how your wet room will look and function well before the contractor begins the work. By spending enough time on planning, you can ensure the wet room turns out just the way you visualised it.  
Decide on the shower fixtures
You can begin by asking yourself if you'd like the shower valves to remain concealed or exposed. Installing the latter is easier and it's also a better choice to complement a modern country look. But if a sleek contemporary look is what you desire, opt for a fixed shower head that has concealed pipes. However, there are downsides to fixed shower heads. For one, it's almost impossible to keep your hair dry (if you desire so) while showering. They are also useless to clean the shower area. That is why you must install a handheld shower too if you go the fixed showerhead route.
It's worth spending on quality drainage
One of the most effective wet room ideas is to install a good-quality drain fixture. Go for a channel-type drain that draws in water across its entire width and you'll never have to worry about preventing floods. Also, choose a drain fixture containing an easily accessible dirt trap that can be used to ensure the drain water runs off freely.
The partition doesn't have to be glass
The panel that is used to contain splashes in wet rooms is typically made of glass. However, you can isolate the shower area using other creative ways and materials. For instance, you can install a partition wall covered with tiles to contain water from the shower. Talk with your contractor for more ways to create a partition for the showering area of your wet room.
Creating a separate storage space for stocking toiletries like soap and shampoo in the shower area is important. Place the storage in a way that is easily accessible while showering. One solution that satisfies this criterion is niche shelving. You can have it built into the stud wall during the construction stage. Niche shelving is convenient as it does not intrude into the shower space like racks and rails. Make sure the installer tiles the shelf at a small gradient so that water does not pool up at the back. This is similar to how the wet room floor gradient ensures water doesn't pool up in your shower area. As a final touch, add subtle and waterproof lighting for illumination purposes.
As a final point, consider installing underfloor heating for your wet room. This is not as complicated as it might sound and offers a couple of practical benefits. Firstly, it keeps the tiles warm when you take a shower which is something your feet will absolutely love. Secondly, it quickly dries the water out from your wet room floor.
All said and done, a wet room is a wonderful addition to any home. It is independent of a bathroom's size and helps add value to your home. If you'd like more info on how to convert your existing bathroom into a wet room and other shower room ideas, get in touch with us today. All Division Building is a leading installer of shower rooms and wet rooms in the Kent region. Our designers visit your home and involve you in the conceptualisation of your new wet room. Your needs and preferences are considered at every point with the result being a wet room that offers a luxurious experience every time you step in to take a shower.