Every homeowner wants a beautiful and appealing kitchen. An attractive kitchen will not only make you feel happy when cooking, but also washing utensils. Unfortunately, kitchen designing and remodelling is not an easy undertaking. It can be a costly affair, and everything can go amiss if you don't plan the entire project cautiously.
Remodelling your kitchen is a very fascinating and motivating undertaking. There are so many choices and decisions to make and come up with a masterpiece. All you need to do is make sure the remodelling ideas you settle for will not be frustrating and daunting to incorporate into your project.
Kitchen remodelling is a project that can successfully be achieved. However, the key question becomes where to start when remodeling a kitchen, and what can you do and improve the look of your kitchen?  There is a lot that will come in mind, but you have to think of the cost of the kitchen design and the entire remodelling process. You need to have a grand plan that will work, and it involves having to come up with a practical budget.
Remodelling on a budget can be a tough undertaking, if you don't know where to start. You have to decide on how much you are going to spend and stick to the set budget. The average cost of remodeling your kitchen will be determined by;
You have to set a budget that will cater to the entire remodelling project, and not break your bank account. You need to remodel your kitchen and still be able to cater to other home-related expenditures.
Plans you have for the house
Remodelling and designing a modern kitchen on a budget will also be determined by how long you plan to stay in your house. You should remodel the house in a way that will make you and your loved ones comfortable.
If you are planning of selling the house, make crucial improvements that will increase the value of the house. Feel free to spend what you can get back once you sell the house.
Consider your neighbourhood
Are you a modest person or into upscale settings? You need to mind the location of your home as you remodel it at a set budget. Don't spend money renovating a house, and lose your investment when you sell the property. Keep the renovation project simple and gather essential information on how to update your kitchen on a budget.
You can't just get started remodelling your kitchen because you have a set budget in place. You have to know when remodelling a kitchen where to start. Early preparation is vital. Figure out everything you want to be included or improved in your kitchen. Then have every material for the project on site to shun any extra expenses that might alter your set budget.
There are cheap and easy kitchen remodelling ideas that you can make use of and succeed in your endeavours. They include;
 1. Make a backsplash
There is no better way to update your cooking space than adding a kitchen tile backsplash. You will give your kitchen a visually appealing look you have been yearning for all year long. The backsplash you choose should give your kitchen nice color and shine.
If you know how to renovate a kitchen yourself, go on and design your own patterns that will harmonize with the new look. If stuck, look at inexpensive kitchen remodel pictures, and get a glimpse of how your tile backsplash should look like.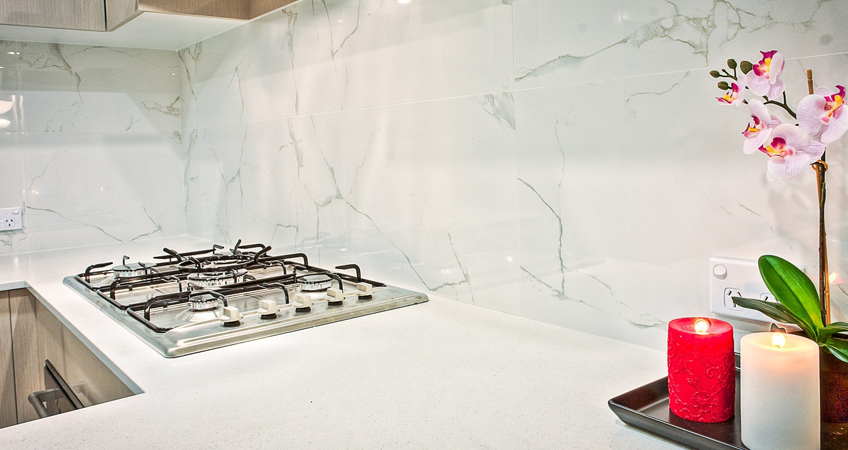 2. Go simple
You may have many ideas on how to renovate your kitchen on a budget, but you should not forget to go minimalist and light. Add some dimension to an all-white kitchen. White is a dominant colour and most sought-after finish you can opt for.
 3. Opt for hardwood flooring
A hardwood floor will transform the look of your kitchen. It is a budget-friendly flooring choice that will also make your house cosy and warm. Besides being inviting, hardwood flooring is also imperative because;
Hardwood is eco-friendly.
A great choice for open floor plans and will beautifully flow from your kitchen to other rooms.
It is a durable home remodelingmaterial that will last for many decades.
 4. Mind the kitchen countertops
Your countertop will impact your kitchen design greatly. As you stick to your low budget kitchen remodel ideas, keep in mind that are classic materials choices that can transform the look of your countertop. For example go for sleek granite, classic marble, and quartz or stainless steel countertops.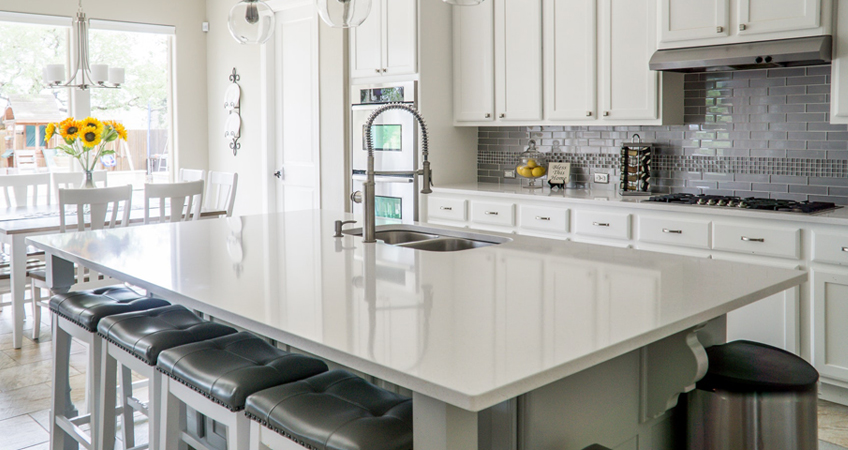 5. Go green
Green is a great colour to opt for, and don't be afraid to blend it with white and brass. With such a finish, your kitchen will be the envy of everyone. Just trust your ideas. You can opt for a green countertop that will effectively blend with other kitchen appliances.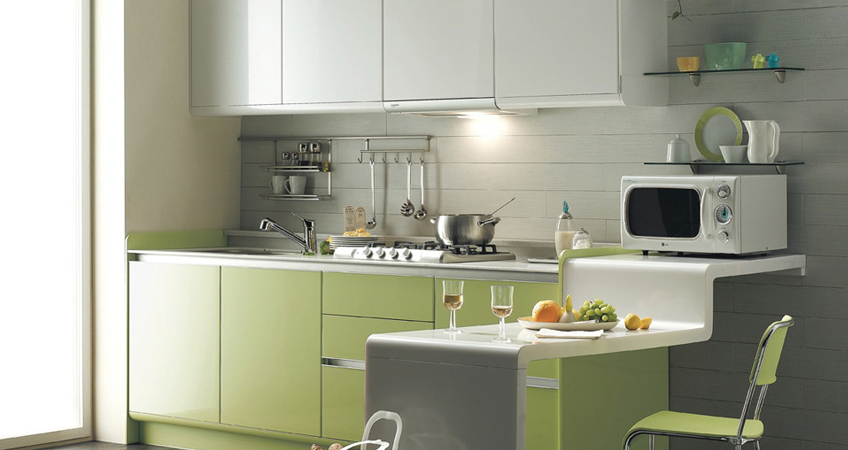 6. Warm the floor with a rug
If you love cooking or spending most of your time in the kitchen, you can add warmth into your kitchen with the best kitchen rug. It might be one of your inexpensive kitchen remodel ideas, but the rug will add comfort and help add a little personality and taste to the space.
Kitchen rugs come in a variety of sizes and shapes, and you can get one that perfectly fits and blends well with your kitchen.a
---
---
 7. Light the space up
Bring fun vibes to your kitchen by lighting it up. Blend the room with the best pendants in the market. You can opt for gold and white pendants and add a glamorous touch to your kitchen.
 8. Work on the cabinets
Kitchen ideas on a budget can seem endless, but the truth is that you cannot forget to save some funds to remodel your kitchen cabinets. You can choose two complimentary colors for your cabinets, so they don't clash with other items in the kitchen. On your remodeling kitchen cabinets on a budget plan, you can also consider different looks and layouts.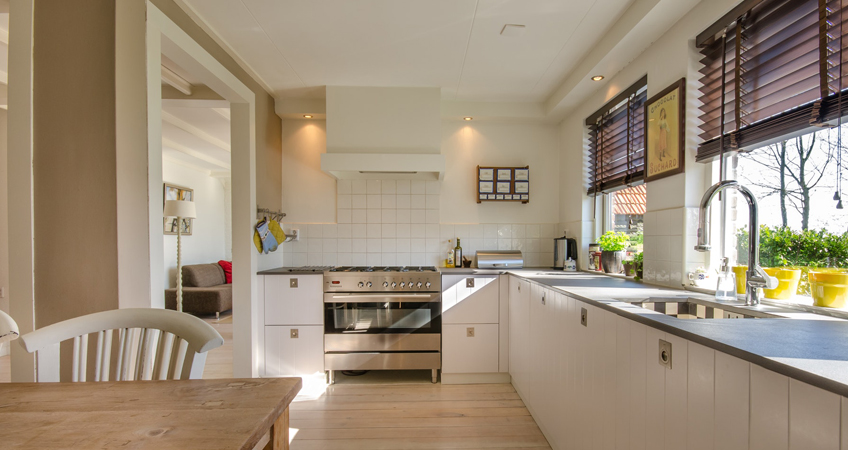 9. Embrace open shelvin
If you are into a 5000 kitchen remodel, adding an open shelve will increase your kitchen storage options. An open shelve also welcomes and warms your visitors' hearts. You can also embrace the idea of open shelves, as it also makes the kitchen space brighter. You will also not shy away from showing off your stylish and elegant dishware with an open shelve.
 10. Make a statement with your ceiling
There is no better way to remodel small kitchens on a budget than also considering the entire space you have on the floor or ceiling. Pay much attention to your ceiling, and try has hard as you can to make a statement.
Paint your kitchen ceiling with a complementary color, and be bold without being too obstructive. You can also paint a mural on your ceiling. It's a masterpiece and will make a big statement with your kitchen design.
 11. Add unique stools
If you are looking for distinctive kitchen remodel under 2000 ideas, you can simply add unique stools to your design. Your counter stools will add contrast to your kitchen the same way like dining chairs. For serious remodeling goals, you can go for leather topped wooden kitchen stools. You can also think of other furniture and appliances that will blend well with your kitchen as you figure out how to remodel kitchen cabinets yourself.
 12. Plate wall
Before you exhaust all DIY kitchen remodel ideas on a budget, try and incorporating a plate wall on your kitchen design. It is a simple project to undertake. You simply need to decide on a layout of your desired plates and then put nails in the wall. You can then hang each plate of choice on each nail. You will form a unique monochromatic plate wall that will change the look of your kitchen.
---
---
 13. Unique Chalkboard wall
If you are designing kitchens under 500, you can opt for a chalkboard wall to improve the look of your kitchen. Paint permanent designs on the wall and mount it on a shelf or your kitchen wall.
 14. Update the kitchen sink
Your kitchen sink is the backbone of all your cooking adventures. You can improve the look of your kitchen sink growing some plants in the windowsill. This is one of the amazing and eco-friendly remodeling your kitchen ideas that you can trust.
 15. Upgrade kitchen appliances
If you have come across a few remodeled kitchens on a budget pictures, you know that there is no better way to improve the look of your kitchen than adding new appliances. Get new appliances like a microwave, energy-saving refrigerator, as well as a water-saving dishwasher.
---
---
 16. Make use of free space
As you improve the look of your kitchen, try as you can and make use of the free space in the kitchen corners. Properly, you have come across small kitchen remodeling ideas on a budget pictures and got an idea on how to make use of free kitchen space. For instance, you can transform the extra space into a nook for dining or working at home.
 17. Add vintage treasures
You can also create great low budget kitchen remodel pictures by adding vintage treasures to your kitchen. Go for weathered wood and rusty green desk-turned into a kitchen island, and give your kitchen more personality.
 18. Add an old-fashioned stove
Out of all your home remodeling tips budget, you should not forget to put into consideration the idea of adding a unique and antique stove to your kitchen space. Find those traditional stoves or burners and add them into your kitchen space.
 19. Add a sturdy ladder
If you have a tall kitchen shelve, it is a great idea to also add up a ladder that you can use while doing your chores. A cool rolling ladder will be a great kitchen furniture, if you have a taller kitchen storage.
 20. Share cost and communicate with remodelers
You may have robust kitchen remodeling tips, but don't forget to value the work of your remodelers, if you decide to hire a few. In addition, you can share the cost of the remodeling project by doing it yourself where you can or you are good at.
To Wrap Up
If you are a habitat for humanity restore and thinking of remodeling your kitchen, there are great ideas that you can abide by and save time and money. However, it is advisable to seek professional remodeling help, if you cannot do it yourself. At All Division Building, we have a team of experienced and licensed contractors and Kitchen builders who will help you remodel and renovate your kitchen without much hassle and at budget friendly rates. Make that call today.